Hi,
Every woman is finding the most natural look, leaving hair out or getting a partial unit are great ways to have the most natural look to your extensions. But if your hair doesn't match your hair extensions, a closure piece will be the best solution.A hair closure is your best friend when it comes to having that instant hair style.It gives you a glamorous factor for any occasion and leaves a good first impressions for your partner in the first meeting.
Straight hair with closure
Women may be a bit worried that hair weave will make them look so unnatural. However, you can choose brazilian hair bundles with closure, it is as natural and beautiful as your natural hair, it has a soft and smooth texture which can blend with your hair well, Seek the advice of a hair stylist to get the best hair color and care for your look.
Hair closures need tender loving care just like your natural hair. Whether they're silk or lace hair closure types. It is necessary to you're your hair closure to prevent it from shading.shading occurs when a spot on your closure loses its hair strands. So treat your hair closure with extra care using the following tips and never worry another bad hair day again.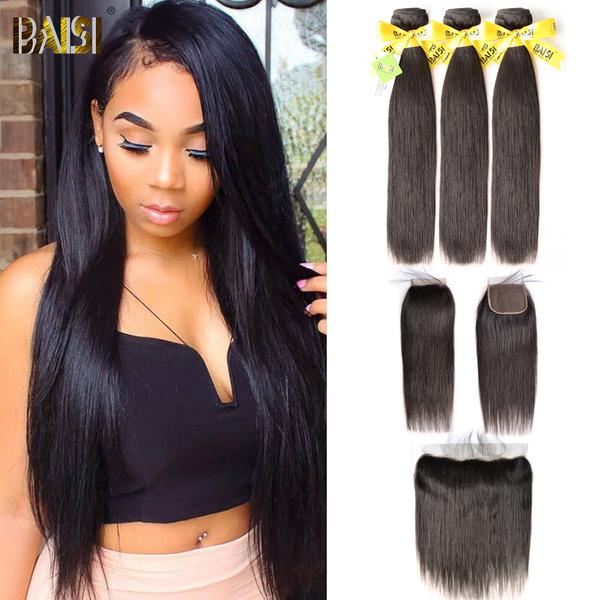 Treat Your Hair Closure Like a Baby
Don't do anything rash with your closure such as tugging, scratching or rough handling. These are the primary causes of balding which will do more harm than good.
Brushing or Combing
Brushing your hair closure with a wide-tooth comb softly. Brush the hair gently from the ends as you work your way up to the root. Hold the hair at the root while combing to avoid shade
Do not use heavy hair products directly on the closure as this could damage the piece itself. Avoid using too many gels, lotions, oils or mousse since this can cause tangles and damage. To add moisture and keep it soft, apply a little amount of light moisturizing hair serum instead so that you can easily form your curls or waves. Extra care should be taken if you use rollers, flat iron, curling or crimping devices.
Store Your Closure Piece Properly
One of the main reasons why a hair closure piece would get damaged is when it is exposed to the elements or rubbed with other objects. Store your closure in a clean box without any other stuff in it or hang it properly inside a cabinet. Store it in a way that rubbing with other objects could be avoided.
If you buy hair closure from Realbeauty Hair shop which supplies virgin human hair, you can consult our everything about hair, we are glad to help you to enjoy your hair.
PS: Esse post é uma publicidade e seu conteúdo é de responsabilidade da marca.